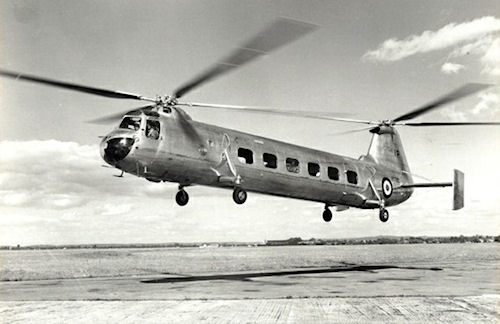 Civil flying restarted in 1946 with the passenger service to Cardiff, however it became increasingly difficult to make it profitable and it soon ceased. Western Airways concentrated on aircraft maintenance, and aircraft including Bristol Freighters and Bristol Britannias arrived for update and maintenance. The Varsity Flight continued to provide air training for students from RAF Locking.
In the 1950's the Oldmixon factory and flight sheds on the airfield became the Helicopter Division of the Bristol Aeroplane Company starting a long association of helicopters at Weston. Under chief designer Raoul Hafner they designed, developed and manufactured the Bristol Sycamore and tandem rotor Bristol Belvedere which were among the most advanced helicopters of their time. In 1960 Westland Helicopters took over, and the manufacture sub-assemblies and modification of helicopters provided work for 1600 people becoming the largest employer in Weston. The Oldmixon factory closed in 2003 when Westland moved all work back to Yeovil.
The factory at Elborough became Bristol AeroJet and maunfactured missile motors during the Cold War. These included rocket motors and casings for Bloodhound, Sea Cat and Rapier missiles.
In 1967 The Achilles School of Flying based at the airfield offered single and twin engined instruction, instrument ratings and charter work and took over the pleasure flying operations. The installation of runway lights and a radio beacon in 1968 attracted Imperial Tobacco who based their flying operations at Weston, as did a number of others, such as Bristol Air Taxis, who had their maintenance carried out by Western Airways. In the 1970's Avon Air Days were held at the airfield recreating the events of the pre-war air shows with spectacular flying and stunts. In 1972 there was a mid-air collision between two bi-planes which crashed on the airfield. Both pilots survived.
The RAF Volunteer Gliding School (621), the Woodspring Gliding Club and later the Mendip Gliding club operated from the North side of the airfield until 1995. Since then the only aircraft flying from the airfield are helicopters visiting The Helicopter Museum.