WW2 had a large impact on the surrounding area. In 1938 the Air Ministry purchased farm land to the North of the village and built RAF Locking which opened in 1939 to train aircraft technicians. During WW2 RAF Locking grew into a huge hutted camp where there could be 4,000 students in training to support the growth of the RAF. Satellite camps were built at Knightcott and Summer Lane.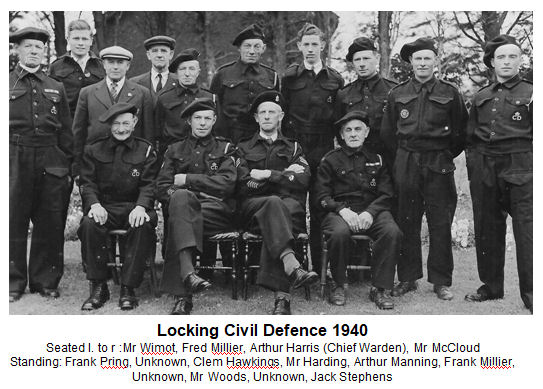 The airfield was taken over for military use, and 'shadow' aircraft factories were built at Oldmixon and Elborough where the Bristol Aeroplane Company manufactured Bristol Beaufighters and other aircraft. The main road past Locking was widened and staightened so that completed aircraft could be towed to the airfield for flight test and delivery.
The war united the villagers in a common effort. The Savings Group raised £23,000 for the war effort, plus £1,500 (£80,000 in today's money) for 'Warships Week'. A model warship was towed around the village to encourage donations.
Locking had its own 'Dad's Army' Civil Defence Volunteers with Arthur Harris the chief Warden and Dr Bray from the Manor house in charge. There were two public air raid shelters - one at the western end of the village and the other in Old Banwell Road, and a Barrage Balloon near the junction with the Hutton road. The vicarage was the headquarters for the Balloon Barrage, and 'Winterstoke' in Old Banwell Road became a medical centre. The most action they saw was in June 1942 when bombs were dropped on Hutton hill, their target being the Bristol Aeroplane Company factories at Oldmixon and Elborough near Banwell.
Locking escaped bombing, but on the nights of June 28 and 29, 1942, over 52 high-explosive bombs and more than 10,000 incendiary devices fell upon Weston-super-Mare killing over 100 people and injuring many more.
In 1946 Locking's vicar found himself chaplain to 200 German Prisoners of War interned at Knightcott camp.